Shyla & Shay
Shyla (racing name Girls Aloud) came to live in Lincolnshire in October 2009 when she was two years
old. Her name is Hindi and means 'Daughter of the mountain,' how apt for a trailhound! Shyla is quite a tall girl and I call her 'Skinnymalinks' or 'Miss Lean Bean!' She has a lovely nature and especially enjoys being fussed and cuddled. As a true traillie she is also a foodie and there is precious little which she dislikes! when we are out her recall words are 'chickie' and 'sweeties' (as well as her name.) She loves lettuce, peppers, apples , soft fruits and so on but especially bananas. Whilst I have been abroad she has been to kennels and has made a big hit there, she also came home quite a bit plumper because as they said 'She does like her food.'
We are practising for the Bronze level KC Good Citizen, I don't think we shall ever reach the gold level but my first trailhound, Katie, was the very first trailhound to achieve the Gold so we  may have to be content with bronze this time around!
Shay is a handsome boy aged just over two. He left Carlisle in June 2014 to travel to his new home in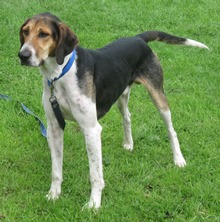 Lincolnshire with his new companion Shyla and new owner Mags.
He is very calm and takes everything in his stride. He loves being stroked and cuddled, snuggling up on the settee (which used to be a dog free zone!) and playing chase with Shyla out in a friend's field.
He has already been to one dog training class where he met 15 other dogs! His tail never stopped wagging even when one of them gave him a "collie smile!" Of course he worked extra hard when sausage treats were the order of the day.
Already he has had "the operation" and seems to be recovering from it very fast.
He can be a little nervous at first out in the street with lots of new people but after a few minutes he wants to know them, and be stroked. He is settling in very well.
Mags.